Study Abroad in Canada
Being the second-largest country in the world by landmass, there are plenty of things to be explored in Canada. The country boasts of beautiful landscapes, culturally rich cities, and incredible natural wonders. Surrounded by the United States in the south, the Atlantic in the west, the Pacific in the east, and the Arctic in the north-Canada have a unique location with culturally rich cities, vibrant lifestyles, and a booming job market that attracts students from all across the globe.
Canada has many reasons to be counted among the best places for international study destinations.
Despite the rugged environment, Canada is a highly developed country that ranks well on economic and human development indexes. Not surprisingly, Canada has consistently been ranked the best place to study abroad. Canada is a tolerant and accepting society, where international students feel welcome regardless of their ethnic and social background. The colleges and universities in Canada are counted amongst the best in the world. The cost of studying in Canada is one of the other reasons that attracts students in huge numbers, and it is considered an affordable place to study.
Canada's liberal immigration policies, which seek to attract skilled immigrants, appeal to international students. Students in Canada can work 20 hours per week without a work permit and full-time during their vacations. In 2016, the Canadian government announced that it would award candidates who had completed their education in Canada additional points towards its Express Entry Comprehensive Ranking System. Furthermore, the Canadian government offers a specialized work
permit of up to three years for qualified graduates. The students can later use this experience to apply for permanent resident status.
Canadian education system prides itself as a world-class leader with the education cost remaining accessible. The tuition fees are the lowest among the big four English-speaking nations(U.S, U.K, Australia, Canada), making a top choice among the students, including the U.S. Canada is one of the nations which has a large growing economy with an acute workforce shortage.
Toronto, Vancouver, Quebec, and Ottawa attract many international students due to the number of colleges and universities.
Education in Canada is research-oriented, and students have a comprehensive education based on innovation and analysis. Canada's thriving research culture exceeds other nations. Canadian research has greatly influenced the scientific world, like the discovery of insulin by Banting and Best, the development of computerized weather forecasting systems, and the invention of CCD chips in camcorders and telescopes, amongst others.
According to the Council of Ministers of Education, Canada (CMEC), Canada has about 163 recognized public and private institutions, including theological schools. Additionally, there are 183 recognized public colleges and institutes, 68 university-level institutions, and 51 college-level institutes where only selected programs are approved under provincially established quality assurance programs.
The higher education system in Canada differs from one province to another. Due to a lack of federal accreditation, institutes in Canada are regulated and receive funding from their respective provinces and territories.
Quite a few Canadian institutions typically appear among the top 100 worldwide university rankings. The 2022 edition of Times Higher Education placed the University of Toronto first in Canada and 18th in the world. The University of Toronto was also ranked among the top 10 universities globally in 13 subject areas. The University of British Columbia tied for first in the world for industry and innovation impact and was named the 37th best university. McGill, McMaster, and the University of Montreal were also ranked among the top 100.
Some of the top universities, province wise-
| | |
| --- | --- |
| University Name | City |
| | Athabasca |
| | Edmonton |
| | Edmonton |
| | Edmonton |
| | Alberta |
| | Calgary |
| | |
| --- | --- |
| University Name | City |
| | North Vancouver |
| | Victoria |
| | Burnaby, Surrey, Vancouver |
| | Vancouver Kelowna |
| | Langley |
| | |
| --- | --- |
| University Name | City |
| | Toronto, Mississauga, Scarborough |
| | Windsor |
| | London |
| York University | Toronto |
| | Sudbury |
| | Ottawa |
| | |
| --- | --- |
| University Name | City |
| | Winnipeg |
| | Winnipeg |
| | Winnipeg |
| | Winnipeg |
| | |
| --- | --- |
| University Name | City |
| | Regina |
| | Saskatoon |
| | |
| --- | --- |
| University Name | City |
| | Sherbrooke |
| Concordia University | Montreal |
| | Montreal |
| | Montreal |
| | Montreal |
Canada offers about 1558 Undergraduate level, certificates, and diploma programs. The majority of it is from British Columbia, Ontario, and Saskatchewan.
There isa 6784 Bachelor's program that is open for study in Canada, Ontario offersthe majority of Intakes every year followedby Alberta, Nova Scotia, and British Columbia. Thisbachelor's program also comes with Distance ED, COOP, and scholarships as well.
Studying Masters Degree in Canada comes with a choice of 3113 programs. Ontario offers higher numbers of intake every year, Area of Study is highly promising for future job aspects. STEM profile candidates often get a good scholarship and post-studywork opportunities in Canada.
Just Before you are planning for Study Migration, few thinks you must keep in mind-
# Which Program to choose
Majority of the students are failed to choose the right program; hence their career opportunity might can get effected in this process. The first thing is to choose the Program and look for University options.
# Choosing the Right University
While choosing the university at first stage is a difficult task for any candidate. At this many of you don't aware with the basic facts of that country. So before you apply for any university you must know the basic of the university rules regulation, guidelines even a candidate also must know about the particular province the university situated at.
# The requirements
Many of the students not fully aware with the university or college entry requirement. Such as, Entry level Assessment, IELTS LWRS specific requirement, Scholarship Requirement, Post Study extension of Visa. All this can actually area of concern if any candidate doesn't put their attention at first stage.
# The Visa Denial
Each Year CIC reject 30% Student Visa in an Average. The Major reason of the rejection is choosing the right Program or university, SOP/LOR and student intention.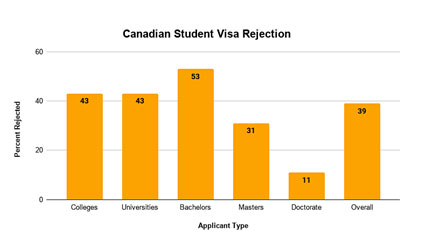 Apart from above points, Student financial statement, Gap in education, professional gaps can also can be the reason of the rejections.